Journal d'un sein
By Administrateur réseau on Thursday 5 February 2009, 08:58 - LE LIVRE - Permalink
Diary of a breast
This diary describes with a friendly manner the day-to-day relationship that developped between the author and a new partner who got into her life: a cancer. The reader will devour the pages of this book, in which Beatrice Maillard-Chaulin's straight humour becomes an actual and essential adjuvant to chemotherapy.
As the days go by, this fight against the intruder will become a collective struggle. They, Beatrice and the Curie Institut's team, François, Garrus the dog and all their friends, will win, they will be the champions.
This is a love story. And love doesn't quibble about what goes to who. Chemo or alchemy of our little pleasures? One can not divide the success of a team into its individuals. There is no miracle, but a secret that Beatrice Maillard-Chaulin shares with us in this revivifying-like-a-roar-of-laughter book: faced with disease, the slightest chance of happiness becomes the most effective stimulant to recovery. This is an exemplary book.
In Fance, one woman out of eleven suffers from breast cancer. The spirits, as we've known for some time now, is a major fact in the process of recovery. Such an account may be of great help to all people facing this disease, should it be the sick person herself, or her family and friends circle. It relates with very simple words how the fear was progressively replaced by the joy of living, and how the sick woman, with a little help, was able to regain the control of her life.
This story will help those who could be one day affected by this disease to take it up with less apprehension and certainly more serenity.
After having experienced this adventure which constituted an unexpected turning point in her existence, Beatrice has been living with François, the man of her life, and Garrus, her faithful husky.
Beatrice Maillard-Chaulin works as an executive for a big french company, and she actively took part in the organization of the 1992 Olympic Games, alongside Jean-Claude Killy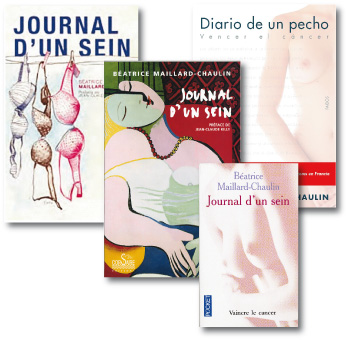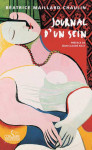 JOURNAL D'UN SEIN - Béatrice Maillard-Chaulin